Chinatown Chinese New Year's Celebrations 2014
Arguably the biggest and most popular festival for the Chinese community in Singapore, every Chinese New Year promises to be a fun-filled occasion for the whole family. Not sure what to do during this auspicious festival? Head on down to Chinatown as the Kreta Ayer-Kim Seng Citizens' Consultative Committee is organizing an event not to be missed. With celebrations carrying on for over a month, from 10th January 2014 to 28th February 2014, many exciting programs such as the Street Light-Up, Official Opening Ceremony, Festive Street Bazaar and Nightly Stage Shows will be held.
Chinatown Chinese New Year Celebrations 2014 Street Light-Up
Date: 11th – 28th January 2014
Time: 7 PM – 2 AM (Friday and Saturday) | 7 PM – 12 AM/MN (Sunday – Thursday)
Venue: Eu Tong Sen Street, New Bridge Road, South Bridge Road and Garden Bridge
It's the Year of the Horse. Usher in the Chinese New Year with 88 beautifully illuminated lanterns that have been sculptured to resemble horses. These lanterns can be seen galloping towards prosperity as they march towards the numerous gold coins that have been hung across the streets. Students from the Singapore University of Technology and Design are the ones behind this unique and innovative showcase. You won't want to miss this!
Note: The number 8 is widely believed to be a lucky number among the Chinese community.
Chinatown Chinese New Year Celebrations 2014 Official Light-Up and Opening Ceremony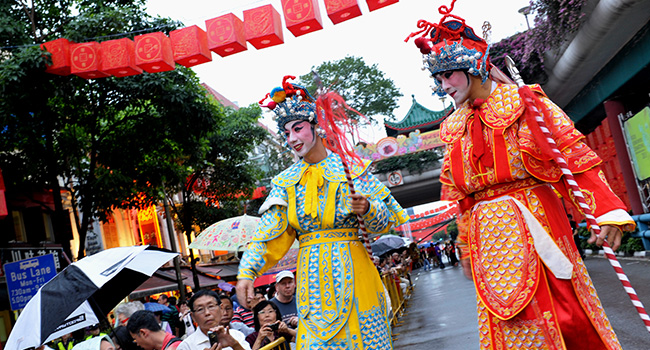 Date: 11th January 2014
Time: 6 – 10 PM
Venue: New Bridge Road and Eu Tong Sen Street
Featuring an energetic and hi-end stage setting, be captivated by the visually stunning effects and amazing performances choreographed by Mr Zhao Bo Jun, award-winning Dance Choreographer. Spectacular visual effects coexist in unison with aurally pleasing musicals skits, songs, acrobatic performances, martial arts and dance numbers performed by performers that have come all the way from Singapore and China.
Festive Street Bazaar
Date: 10 – 30 January 2014
Time: 6 AM – 10.30 PM (Every day) | 6 PM – 1 AM (Chinese New Year's Eve)
Venue: Pagoda Street, Smith Street, Sago Street, Temple Street and Trengganu Street
Choose from a wide selection of delectable delights from the many stalls that are available in the streets of Chinatown. With gorgeous lights and stunning decorations, you will feel truly part of the experience. Items that range from biscuits, handcrafted goods, and pickled fruits to refreshing herbal tea are also available for sale at the bazaar.
Nightly Staged Shows 
Date: 11th – 30th January 2014
Time: 8 – 10:30 PM
Venue: Kreta Ayer Square
Spend your night being thoroughly entertained by local entertainers and troupes that have come all the way from China to perform during Chinese New Year. Kreta Ayer Square, Chinatown is a favorite meet up venue among Chinese communities and tourists as it is where the Buddha Tooth Relic Temple and Museum is located.