Singapore has a very advanced public transportation system, so it is very easy to get around. In addition, it is a small island and it takes less than an hour to travel from one end to another.
1. MRT
The MRT is the most common form of public transport in Singapore. The network is extensive and the service is very efficient, making it a popular and convenient mode of travel. The only gripe is that it can get very packed, especially during peak hours (weekday mornings and evenings), making it less convenient for families with little kids. Visit SMRT to learn more.
2. Bus
Buses are another popular and cheap mode of transport among locals. They are quite punctual and you can usually find bus stands at opposing sides of the road. The public buses are operated by SBS Transit and you can use the same MRT card to pay for your tickets. The buses are all modern and air-conditioned – most even installed with LCD tvs to entertain you on the journey. Don't be surprised to see double-decker buses on the road!
3. Taxis
If you don't like sharing and don't mind paying a little bit more, then taxis are a great option. There are many operators on the island but the dominant one is Comfort City Cab. All the taxis are metered so there is no need for haggling over prices. There are many types of taxis from normal saloons to more premium Chryslers and Mercedes E-Class, and also MPVs. There is a starting charge when you get into the taxi and then it increases by kilometers – rates are higher for the premium taxis. Then there are surcharges depending on your time of travel (peak hours or midnight), your destination (anywhere with ERPs) and if you are travelling from the airport.
Some handy taxi booking numbers:
Comfort & CityCab: +65 6552 1111
SMRT Taxis: +65 6555 8888
Transcab: +65 6555 3333
Premier Taxis: +65 6363 6888
Prime Taxi: +65 6778 0808
4. Maxicabs and Limousines
For an even more upscale experience, you can arrange for a private limousine to ferry you around the island. As a point of reference, a point-to-point transfer in a Mercedes S-Class will set you back S$120. If you are travelling in a bigger group, try arranging for a maxi cab – basically an MPV like Mercedes Vito or Toyota Alphard – so that you can keep your group together.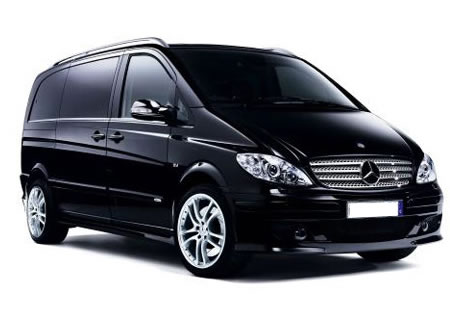 Recommended: Maxi Cab Singapore is a premier private limousine provider on the island – they're flagship vehicle being the 7-seater Mercedes Vito. The service is an excellent choice for families or even small corporate or tourist groups, i.e. you get to keep your group together and save money compared to hiring 2 normal metered taxis.
The most popular use of the service is for airport transfers to/from Changi airport, which costs from a mere S$60.
For even bigger groups, Maxi Cab Singapore offers the Toyota Alphard, which seats up to 13 adults comfortably. The company also provides luxury cars for hire like the Mercedes S Class, making it a one-stop shop for all types of private limousines.
Call +65 6681 5663 or email booking [at] maxi-cab.sg for more information.